Here's What People are Saying
About Jazzy and Kettle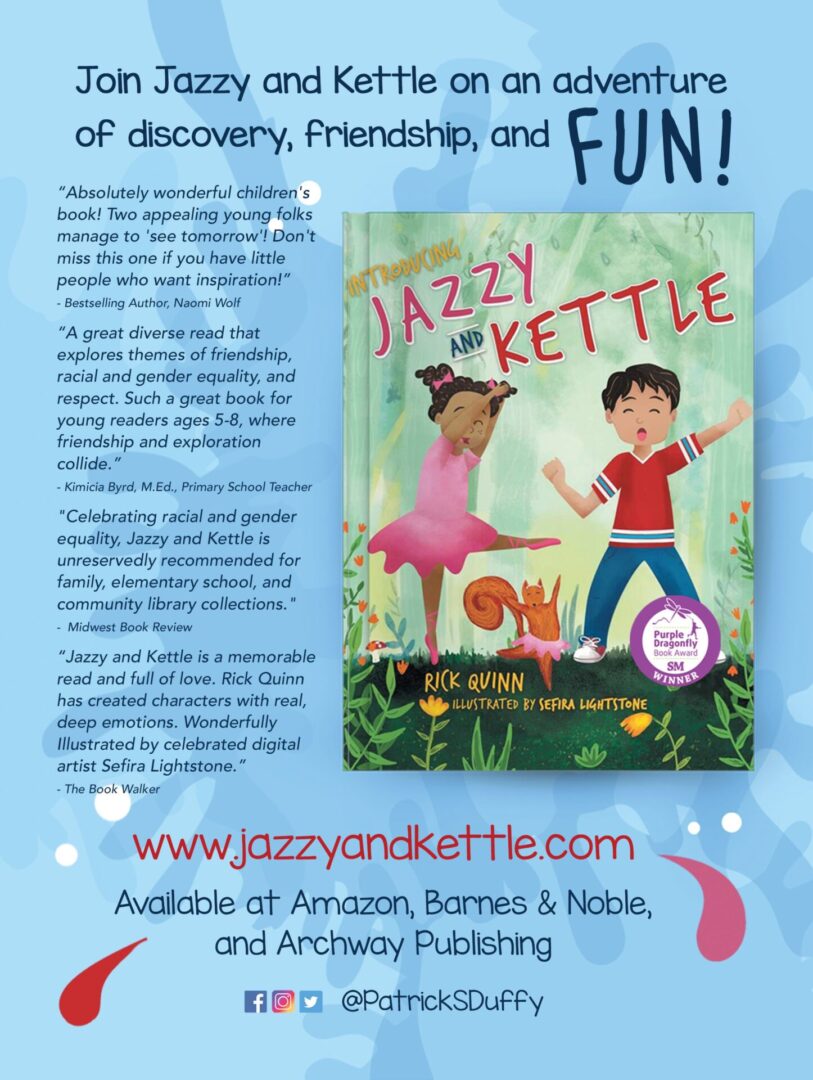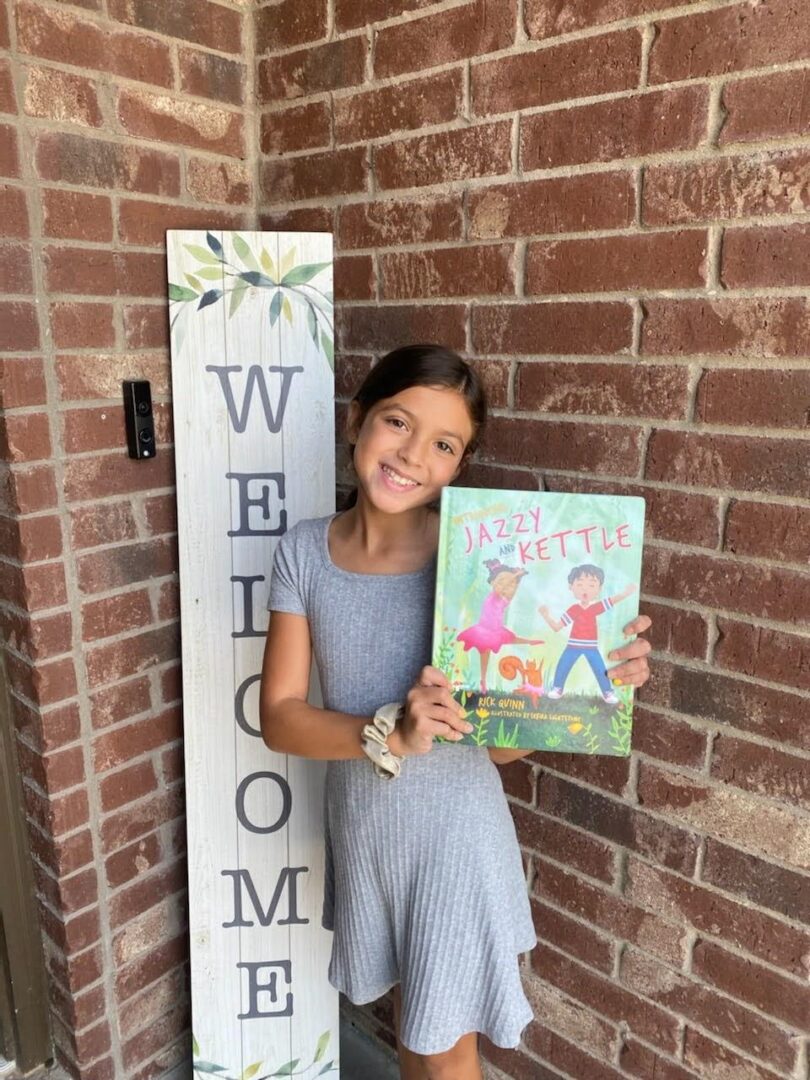 Kimicia Byrd
M.Ed. – Primary School Teacher
A great diverse read that explores themes of friendship, racial and gender equality, and respect. This book also promotes the importance of being courageous and not being afraid to be curious and explore. Such a great book for young readers ages 5-8, where friendship and exploration collide.
Naomi Wolf
Best Selling Author
Absolutely wonderful children's book! Two appealing young folks manage to "see tomorrow"! Don't miss this one if you have little people who want inspiration!
Jazzy and Kettle are two children who are both new to the neighborhood. Early one morning, each of them goes outside to play before any of the adults are awake. There they meet and become friends and then decide to go on an adventure together. Jazzy and Kettle set off for a morning jaunt into the woods near their houses. There they find flowers and birds and bugs and animals, all with their own springtime jobs. They face a little bit of trouble and then learn some valuable lessons. Together the children come to understand a bit more about friendship, respect, the fun of exploration, and ways to overcome their fears. They share how they see life and discover the power of courage and the thrill of curiosity. Celebrating racial and gender equality, "Jazzy and Kettle" by the team of author Rick Quinn and illustrator Sefira Lightstone is children's picture book for young readers ages 6-8 and unreservedly recommended for family, elementary school, and community library collections. It should be noted for personal reading lists that "Jazzy and Kettle" is also available in a digital book format (Kindle, $3.49).
The budding friendship, examined through Quinn's authentic-sounding dialogue between two elementary school-age children, has appeal, especially with the colorful details provided in Lightstone's images." Kirkus Reviews Thanks very much!
Terrific beginner reader book!
Reviewed in the United States on February 8, 2021
Verified Purchase
I have three kids and they all love it. I primarily bought it for my middle daughter, 6, who has speech services and needs all the practice she can get with reading. This book fit that bill perfectly. I can't express how happy I am to hear her read a book about all the things she loves! Dance, dress up, outdoors, friends/neighbors. Check! She reads it to her brother, our dogs, and any friends within a video zoom distance.
Jazzy and Kettle written by Rick Quinn and Illustrated by Sefri Lightstone is a sweet story of friendship and new beginnings. The story is one that you will enjoy reading over and over again. The illustrations are energetic and vibrant just like the main two characters. Jazzy and Kettle take you along as they investigate their new world. Jazzy is a bit more adventurous than Kettle and finds herself in trouble, but Kettle conquers his fears to help his new friend. The story is full of hope and beauty. As Jazzy says she can see tomorrow from here and I think it looks good.
Goshen, MA
Reviews 270
Votes 124
Reader Type: Fiction Lover
9 months ago
Educational And Fun
Jazzy and Kettle - as interesting as their names sound, this new story by debut author Rick Quinn is a tale of two innocent and curious minds. It is also about their courage, prudence, and acclimatizing to life in a new place, which is just as fascinating. It is all they need: a friend to share the wonders of nature with!
New neighbors Jazzy and Kettle meet in the early morning sunlight. As Jazzy describes why she is called Jazzy, "My mom named me that because I like to dance so much," Kettle unfolds the story behind his name, "My mom calls me that because when something great happens, I make a noise like a tea kettle, like Wooooo!"
As the two innocent minds acknowledge that they both relocated from ("Um, where their Mom and Dad grew up"), Jazzy notices the abundance of flowers and grass in the distance. In telling that the flowers are indicators of spring, Kettle shares the knowledge with Jazzy of flowers' job as a messenger, marking the arrival of a new beginning. A hill distracts them as they conclude they are too young to do any job yet, but, just like spring flowers, they will "grow up and pop open."
The hill introduces them to other wonders of nature, such as the beauty of water, a cautious deer looking at them, and a tree branch, the object of nature that introduces both the kids and the readers to some important lessons. Through Kettle, the children encounter courage and learn the importance of being prudent, but they also learn that a step must be taken to witness "Tomorrow" (a new beginning?).
And finally, the two friends appear to have adopted each other's manner when they return home, hungry after an eventful exploration, and are asked how their morning went. Jazzy responds, "Wooooo!," and Kettle turns around and dances!
Jazzy and Kettle is an adventurous story for young readers that take them along on a journey that explores not only nature, but also friendship, bravery, and respect. Their perspective on jobs and their response to their previous residence (where their parents grew up) is sure to make adults smile and make them bless their innocence. In addition to the beautiful book cover, the illustrations add more color to the tale.
Quill says: While it introduces lessons children can learn from their peers and nature, Jazzy and Kettle also erases gender stereotypes, making children more comfortable around peers of opposite genders.
Post Book Reviews/Comments Here
Share Your Thoughts
About Our Children's Book